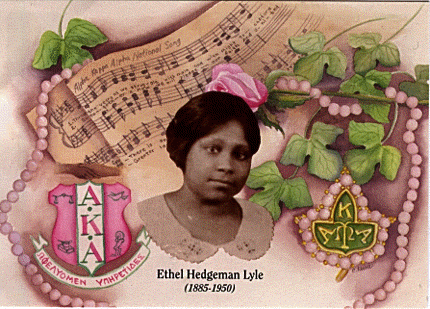 The spirit of AKA hovering over us and our little deeds and acts—smoothing here, covering there, broadening younger, and making us do our best to think, to act, up to the highest in us. It is a force bigger than we are, stronger than we are, and it compels us to climb to the heights where it dwells.
—Ethel Hedgeman Lyle
Alpha Kappa Alpha Sorority, Incorporated (AKA) is an international service organization that was founded on the campus of Howard University in Washington, D.C. in 1908. It is the oldest Greek-lettered organization established by African-American college-educated women.

Alpha Kappa Alpha is comprised of a nucleus of 260,000 members in graduate and undergraduate chapters in the United States, the U. S. Virgin Islands, the Caribbean, Canada, Japan, Germany, Korea and on the continent of Africa.

Its membership is comprised of distinguished women who boast excellent academic records, proven leadership skills, and are involved in the global community through advocacy and service. Alpha Kappa Alpha has dedicated itself to improving the quality of life for citizens worldwide and promoting peace.
International and Regional Contacts
President

Ottilie M. Woodruff
Vice President Denise V. Cobbs
Recording Secretary Alisa N. Officer
Assistant Recording Secretary Janeen J. V. Greene
Financial Secretary Mary Hall
Assistant Financial Secretary Alicia Officer
Corresponding Secretary Cydney Johnson
Treasurer Edith M. Terrell
Parliamentarian Carmen L. Snell
Ivy Leaf Reporter Teena M. Jones
Membership Chairman Tracy N. Garner
Assistant Membership Chairman Pamela Stephens-Jackson
Graduate Advisor Yvonne B. Evans
Standards Chairman Sharon M. Bradley
Hospitality Chairman Geraldine Horton
Protocol Chairman Catherine M. Roberts
Chaplain Elayne Foster
Sargent at Arms Marjorie J. Coleman
Historian Sharon R. Amos
Technology Chairman Lori L. Adams-Mabry
NPHC Rep Tracy Garner & Deanna Stevenson
Members at Large Alise Adams & Michea Pope-Moss
EAF Captain Lori L. Adams-Mabry
Connections Chairman Pamela Stephens-Jackson
Nomination Committee Chairman Josephine Cross
Rituals Chairman Dawn E. Sanders-Garrett
Business Manager Yvonne B. Evans
Risk Management Twyla S. Hardy
Target I Teena M. Jones/ Edith M. Terrell
Target II Jocelyn V. Guthrie / Frances Harris
Target III Deana Stevenson/Tiffany Cook
Target IV Renee Harns/Debbie White-Stokes
Target V Tamekia Hall/Shawn H King
Sisterly Relations Crystal Benton / Debbie White Stokes
Claude & Ouida Clapp Chairman Juanita K. Hunter
​
​
​
​
​
​
​
​
​
​
​
Chartered on June 25, 1944 by a group of young women returning home from college, the Gamma Phi Omega Chapter has been providing programs of service to the WNY community for over 58 years. The purpose of this chapter shall be to retain and reactivate all Alpha Kappa Alpha Sorority members in the Buffalo area; to initiate those who are recommended and meet the requirements of membership; to promote unity and friendship among the members; to implement programs that benefit the community on a theme suitable to our national body in the areas of scholarship, heritage, and social interaction. Click below for Charter Members.
Dawn Sanders-Garrett
WNY Cluster Coordinator
Great Lakes Region
​
Geraldine Horton
International Standards Committee
Regional Standards Chairman
​
Stacy Lewis Beauford
WNY Connections Coordinator
​
​
Glenda Baskin Glover
International President
Carrie J. Clark
Great Lakes Regional Director
Edith M. Terrell
Regional Protocol Committee
​
Janeen J.V. Greene
Regional Protocol Committee
​
Gina R. Mayo-Hawk
Regional I-Team Investigations Committee
Meetings are held the second Saturday of each month, except in July and August at 10:00am.
802 Kenmore Avenue Buffalo, New York